Tips on What to Carry in Your Saddle Bag on a Bicycle Ride
Introduction:
Cycling can be a great way to stay fit and explore different places. When it comes to bicycle rides, it is important that you are prepared for anything that might come your way. One way to do that is by carrying a saddle bag with you. This is a small bag that is attached to your bike's saddle and contains tools, supplies, and other items you may need during your bike ride. In this blog post, I will discuss what you should carry in your saddle bag on a bicycle ride, including the benefits of using tyre gliders instead of traditional tyre levers.
Spare Tube and Tyre Glider
Carrying a spare tube is perhaps the most essential item that you should carry in your saddlebag. This is because punctures are quite common while cycling. The situation can be even worse if you are far away from your destination with no repair shop in sight. Instead of the traditional tyre levers, we recommend carrying a tyre glider. Unlike tyre levers, which can easily damage the inner tube if not used correctly, tyre gliders make the process of removing and inserting a tyre a lot easier.
Portable Air Pump
Another essential item in your saddlebag should be a portable air pump. This will help you refill your tyres in case they get deflated during your ride. There are several types of pumps available in the market today, from small hand pumps to larger ones that are attached to your bike frame. Consider your personal needs and preferences before settling on a particular type of air pump.
Multi-Tool
A multi-tool is designed to cater to a range of needs while on a bike ride. It combines different functions such as tightening bolts, taking pictures, and even opening bottles. This tool is essential because it can help you fix minor problems that might arise during your ride. Ensuring that you have a multi-tool in your saddlebag will save you from a lot of trouble.
First Aid Kit
You never know what might happen during your bike ride. It's always a good idea to have a small first aid kit in your saddlebag. It should contain essentials such as plasters, bandages, antiseptic wipes, and other items to help you treat minor injuries.
Snacks and Water
Finally, you should carry some snacks and water in your saddlebag. Cycling is a strenuous exercise and can lead to loss of energy and fluids. To combat this, you should carry some snacks and water that will replenish your energy levels and keep you hydrated throughout your ride.
Conclusion:
In conclusion, as a beginner in cycling or even a well-seasoned cyclist, it's important to carry the right things in your saddle bag. A spare tyre, a portable air pump, a multi-tool, a first aid kit, snacks, and water are the most essential items that you need to have in your saddlebag. More importantly, consider using tyre gliders instead of traditional tyre levers to make changing tyres easier and less damaging to your bike's inner tubes. With the above tips, you can be assured of an enjoyable and safe cycling experience.
Tyre glider's First Charity Cycling Event
This year Tyre Glider became the proud sponsor of –  Tour de Gwent, a cycling event carefully designed for riders of all age & ability. Organised by St David's Hospice care, Tour de Gwent (#TDG ) took place across the beautiful ancient Roman landscape of Caerleon, South Wales.
Tour de Gwent is a long standing charity ride originating back in 2015 set out to raise funds to support hospice care in Wales & has seen thousands of riders attend throughout. Top tier riders take on the platinum's menacing 93 mile with many up's & down's along the way (we admit it was mostly up's). Whilst the bronze & midi route endured a luxurious 36 or 20 mile ride respectively.
With a range of cycling talent from the hard core through to "there & back" family teams with Tyre Glider there at every turn to help keep wheels in motion. With celeb appearances like long time charity supporter Premier league referee Martin Atkinson it turned out to be a fantastic event all round!
Why not check out our highlights below:
Tour de Gwent from Tyre Glider 2022  
What health benefits do you get from cycling?
Riding your bicycle regularly is one of the best ways to reduce your risk of health problems associated with a sedentary lifestyle. Cycling is a healthy, low-impact exercise that can be enjoyed by people of all ages, from young children to older adults. It is also fun, cheap and good for the environment. Riding to work or the shops is one of the most time-efficient ways to combine regular exercise with your everyday routine. An estimated one billion people ride bicycles every day – for transport, recreation and sport.
Cycling for health and fitness
It only takes two to four hours a week to achieve a general improvement to your health.
Cycling is:
Low impact – it causes less strain and injuries than most other forms of exercise.
A good muscle workout– cycling uses all of the major muscle groups as you pedal.
Easy – unlike some other sports, cycling does not require high levels of physical skill. Most people know how to ride a bike and, once you learn, you don't forget.
Good for strength and stamina– cycling increases stamina, strength and aerobic fitness.
As intense as you want– cycling can be done at very low intensity to begin with, if recovering from injury or illness, but can be built up to a demanding physical workout.
A fun way to get fit– the adventure and buzz you get from coasting down hills and being outdoors means you are more likely to continue to cycle regularly, compared to other physical activities that keep you indoors or require special times or places.
Time-efficient – as a mode of transport, cycling replaces sedentary (sitting) time spent driving motor vehicles or using trams, trains or buses with healthy exercise.
Health benefits of regular cycling
Cycling is mainly an aerobic activity, which means that your heart, blood vessels and lungs all get a workout. You will breathe deeper, perspire and experience increased body temperature, which will improve your overall fitness level.
The health benefits of regular cycling include:
increased cardiovascular fitness
increased muscle strength and flexibility
improved joint mobility
decreased stress levels
improved posture and coordination
strengthened bones
decreased body fat levels
prevention or management of disease
reduced anxiety and depression.
Cycling and specific health issues
Cycling can improve both physical and mental health, and can reduce the chances of experiencing many health problems.
Obesity and weight control
Cycling is a good way to control or reduce weight, as it raises your metabolic rate, builds muscle and burns body fat. If you're trying to lose weight, cycling must be combined with a healthy eating plan. Cycling is a comfortable form of exercise and you can change the time and intensity – it can be built up slowly and varied to suit you.
Research suggests you should be burning at least 8,400 kilojoules (about 2,000 calories) a week through exercise. Steady cycling burns about 1,200 kilojoules (about 300 calories) per hour.
If you cycle twice a day, the kilojoules burnt soon add up. British research shows that a half-hour bike ride every day will burn nearly five kilograms of fat over a year.
Cardiovascular disease and cycling
Cardiovascular diseases include stroke, high blood pressure and heart attack. Regular cycling stimulates and improves your heart, lungs and circulation, reducing your risk of cardiovascular diseases.
Cycling strengthens your heart muscles, lowers resting pulse and reduces blood fat levels. Research also shows that people who cycle to work have two to three times less exposure to pollution than car commuters, so their lung function is improved. A Danish study conducted over 14 years with 30,000 people aged 20 to 93 years found that regular cycling protected people from heart disease.
Cancer and cycling
Many researchers have studied the relationship between exercise and cancer, especially colon and breast cancer. Research has shown that if you cycle, the chance of bowel cancer is reduced. Some evidence suggests that regular cycling reduces the risk of breast cancer.
Diabetes and cycling
The rate of type 2 diabetes is increasing and is a serious public health concern. Lack of physical activity is thought to be a major reason why people develop this condition. Large-scale research in Finland found that people who cycled for more than 30 minutes per day had a 40 per cent lower risk of developing diabetes.
Bone injuries, arthritis and cycling
Cycling improves strength, balance and coordination. It may also help to prevent falls and fractures. Riding a bike is an ideal form of exercise if you have osteoarthritis, because it is a low-impact exercise that places little stress on joints.
Cycling does not specifically help osteoporosis (bone-thinning disease) because it is not a weight-bearing exercise.
Mental illness and cycling
Mental health conditions such as depression, stress and anxiety can be reduced by regular bike riding. This is due to the effects of the exercise itself and because of the enjoyment that riding a bike can bring.
Geraint Thomas on the Tour de France & The Geraint Thomas Cycling Trust
This year Tyre Glider was invited to support the Geraint Thomas Cycling Trust (GTCT) – 
"Set-up in 2021, the Geraint Thomas Cycling Trust (GTCT) is here so that 'Every Young Person can enjoy the spirit of cycling by participating in cycling regardless of their individual circumstances."
The GTCT held it's first charity fund raiser aimed towards making cycling an accessible sport for all & Tyre Glider was proudly in attendance to show our support.
Geraint Thomas & Owain Doull took on some Q & A's whilst spending the afternoon raising awareness to the fantastic goals of GTCT. This also included an exclusive auction of two very special prizes, with the event raising nearly £20,000 to provide opportunities for young cycling enthusiasts.
Tyre Glider joined Geraint Thomas and Owain Doull with Gower Riders and Whitchurch Cycling club, to see the benefits GTCT has brought to young riders, here behind the scene scoops on racing in the Tour De France & understand how cycling is having a positive impact on the youth of today.
It was a great event & we are proud to show our support to the Geraint Thomas Cycling trust. You can find out more on the GTCT here:
Homepage
How to make cycling more fun - Tips for beginners!
1. Set Your Seat Height Right
Are you experiencing pain in the front of your knee, or do you feel like your pedaling is underpowered? Your seat is probably too low, causing you to under-extend during your pedal stroke. A common mistake amongst beginners because most people feel more comfortable and confident if their feet can reach the ground.
To fix: Bump up your saddle. At the right seat height, your knee should be slightly bent at the bottom of your pedal stroke, without rocking your pelvis. Measure the distance between the bottom bracket and the top of the seat. This is your seat height. 
2. Get a Full Bike Fit
In fact, how your bike fits you is one of the most important aspects of riding. If the fit is painful, you're not going to spend much time in the saddle, no matter how excited you are to ride that new bike.
To get the right fit, two elements are key: seat height and reach. The seat height should be high enough to give you a very slight bend in your knee when your foot is at the bottom of the pedal stroke, as mentioned above. Proper reach means your arms and torso make a 45-degree angle over the bike. Too long, and your back will be sore reaching for the handlebar; too short, and your knees will be too close to your arms.
When you're shopping for a bike, take it for a test ride to make sure its frame size is right for you. Then, get a full professional bike fit at your local bike shop to dial in the perfect seat height, reach, and more.
3. Don't Stress About the Gear
You don't need fancy clothes, clipless cycling shoes (which, despite the name, actually clip into the pedals), or a top-of-the-line bike to become a cyclist. You'll certainly need a few things to get started (a bike and a helmet, of course), but don't stress about dumping a bunch of money into a lot of fancy new gear….MAKE SURE YOU TAKE A TYRE GLIDER!
4. Keep Your Bike Maintained
Routine maintenance—like lubing your chain—will not only save you a bundle at the bike shop, but it will also prolong the life of your bike and its components. Keeping the recommended amount of air in your tires (look over your tire to find the psi range) makes your rides a lot easier, too, and prolongs the life of your tires. Check out these other easy bike repairs and maintenance tasks your bike mechanic wishes you'd do.
5. Avoid Doing Too Much Too Soon
One of the biggest sources of injury comes from trying to take on too much mileage before you're ready. Build up slowly, ease in, and give your body time to adjust to longer distances. Warm up during the first third of the ride, then settle into a rhythm for the second, and give it everything you've got for the final third.
6. Carry a Spare Tube or Patch Kit
That unmistakable sound of air hissing out of your tires shatters your peaceful reverie, and the party is over. You won't believe how much more independent you'll feel with the proper bike tire repair kit on hand—a spare tube, a patch kit, Tire Glider, and a mini-pump—and the know-how to get yourself back on the road in 15 minutes.
7. Use Your Gears
Gears are your best friends on a climb and your greatest source of speed on a long, rolling stretch of road. But it does take a little practice to get the hang of when and how to shift into your most efficient gear. Here's a basic guide to using all your gears.
8. Learn How to Ride in a Group
If it's your first time riding with a new group, hang out in the back, observe, and ask for help if you need it. No question is a dumb question when your own safety and the safety of the group is at stake. For more on group-riding rules and technique, check out this article.
9. Remember to Refuel
If you're only riding for an hour, you should have water but don't really need to eat on the bike. If you're planning to ride for two hours or more, bring a snack along and start eating 45 minutes to an hour into your ride. Continue to eat small amounts every 15 to 20 minutes or so. Forgetting to refuel can put your body into a deficit and cause you to bonk—or go into a hypoglycemic state. Tiredness, irritability, dizziness, nausea, confusion—it's not a strong way to finish a ride.
10 Tips for better Mountain biking
Improving your mountain biking techniques and learning a few biking tricks, you'll have more tools to up the enjoyment of your ride. It can also be good to avoid bad  habits, which will develop and cause mishaps.
Practising the basics and mastering a few foundation techniques like positioning, cornering, braking and more means greater control and consistency. Read on for ten ways to improve your mountain biking.
TIP 1: FOCUS ON BODY POSITION
Once you are more comfortable on the bike, you can give more mental energy to improving this element. Body position refers to your stance when entering a technical section, as opposed to climbing or cruising along. 
Here are some key points to keep in mind:
Have your wrists positioned down slightly and rolled back
Keep your head up and look down the trail instead of just in front of the front wheel
When standing, remain constant and sustained (known as the 'ready' or 'attack' position
Keep your arms and legs bent slightly with your torso upright
Always remember, when tackling the challenging terrain, dropping your heels will make it easier to transfer force down and through the bike.
TIP 2: RIDE AS MANY PLACES AS POSSIBLE
The more time spent on your bike, the better you will ride.  Mastering simple obstacles like a few stairs on your way to work makes it easier to tackle bigger obstacles when you are out on the trails.
Downhill runs are fun but technical, so the more time you spend on your bike, the more comfortable you'll become, making it easier to react and learn where to put your weight. 
Pro tip: Getting comfortable enough that you avoid braking sharply on downhill sections is the goal!
TIP 3: UNDERSTAND THE TRAIL
Even though you are rushing through it, you want to understand your trail as best as possible. To do this, always look where you want to go. This will give you as much warning as possible about the roots and rocks that you need to navigate. 
Target fixation is looking ahead to find your preferred line & will lead to a smoother ride. Eventually, you'll master your regular trails, so it's time to explore new ones when you are ready for something fresh!
TIP 4: PRACTICE CORNERING
Cornering well is a great way to speed up your ride. When cornering you should always set your speed before you hit the corner. Any braking should happen before entering the corner. So essentially, you want to set your speed and avoid the brakes.
Always commit to the turn with your body following the line with your head, shoulders and hips. If you are tackling flat corners, keep your outside foot down and remember that your pedal position will vary depending on the corner. Try to avoid automatically dropping the outside pedal; if your pedals can remain level, you'll be more balanced.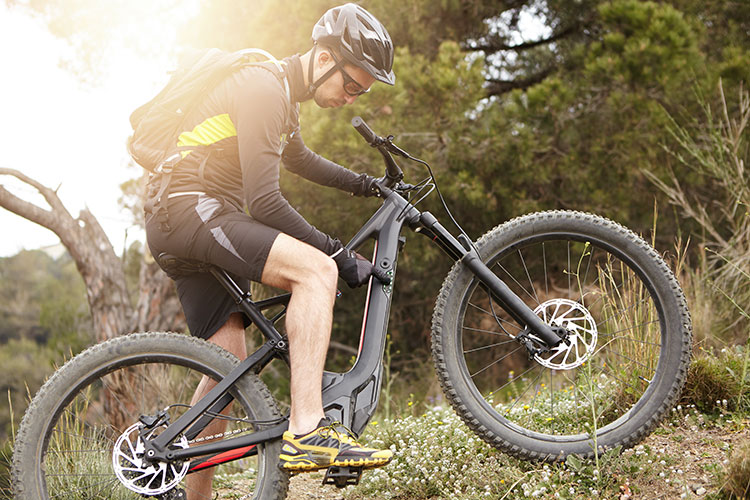 TIP 5: LOOK AFTER YOUR BIKE
Basic bike maintenance ensures that you can always rely on your ride and be safe when out on the trails.
Check over your entire bike before and after every ride, Small issues can grow bigger very quickly on a mountain bike. Ensure that you've chosen the right frame for your size. Anything too big or small can make things harder than they need to be!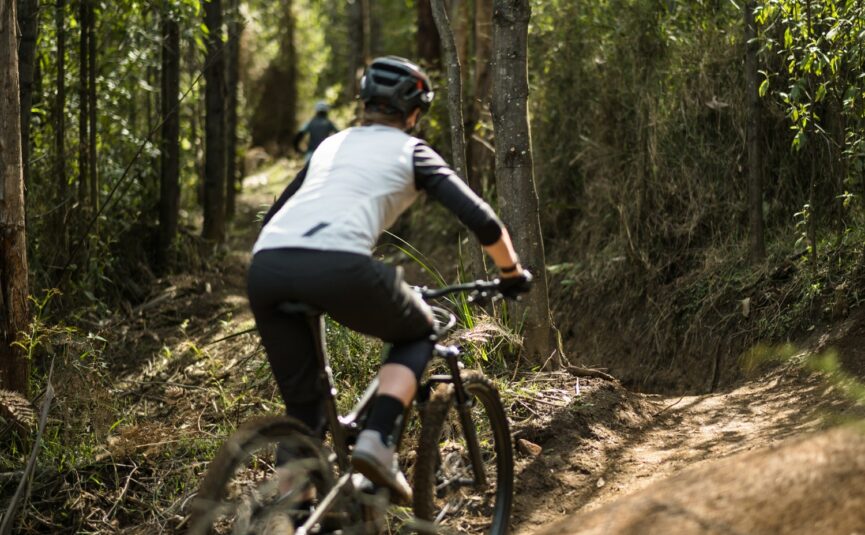 TIP 6: MASTER THE CLIMB
Control is the main mountain bike technique to consider when it comes to mastering the climb. Attacking a climb too much can result in your back wheel spinning or lifting up.
Saddle height is a big consideration on steep climbs. If you lower the height slightly, you'll be better centred on the bike, which also keeps the front wheel from lifting while maintaining balance and traction. Always keep your head up to negotiate the terrain and set your gearing early. Remember, smooth, steady pedalling is the key to keeping traction up a hill!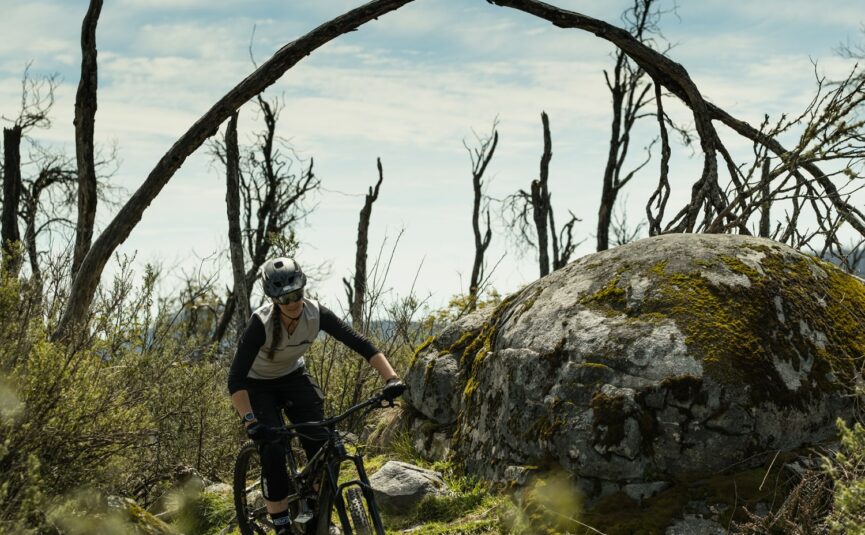 TIP 7: RELAX
Your arms and legs will do a lot of the suspension work, so be sure to stand up, relax yourself and let your arms and legs absorb the intricacies of the trail.
If you can feel how to let your bike move beneath you, you'll tackle the various obstacles you encounter with ease. Relaxing your grip is also beneficial; white-knuckling will tire your forearms and hands quickly, and you'll actually have less control of your bike despite thinking you have more.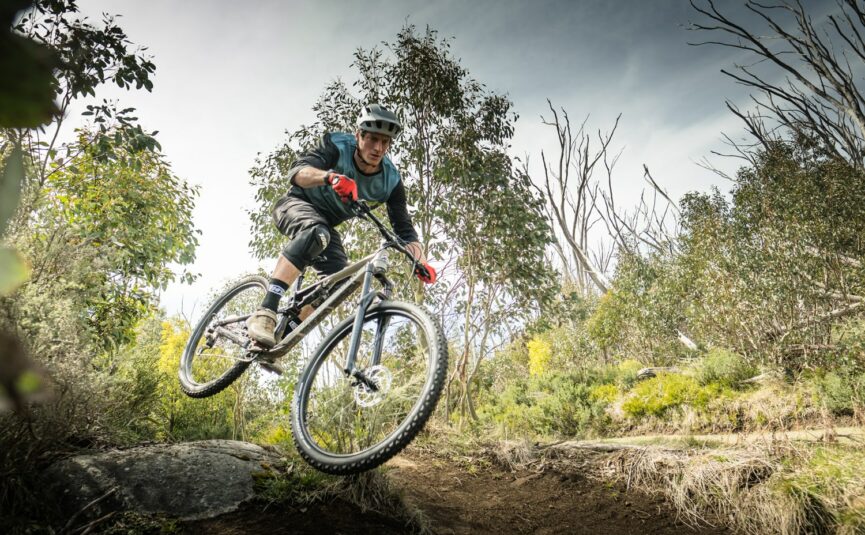 TIP 8: DESCENDING
When riding downhill, avoid braking too sharply, as this can cause you to lose balance and skid. Instead, stay tall on the bike and always set your sights on the end of the section.
By setting your speed before hitting the downhill section, you'll be able to increase your confidence and enjoyment of your downhill runs. Always start small and build up to the bigger sections; they'll always be there waiting for you when you are ready!
TIP 9: THROW IN SOME WHEELIES
Wheelies are not only just fun mountain biking tricks, but they are also a good way to get your front wheel over an object on the trail. You don't even need to get your wheel off of the ground; even just lifting your weight makes your run smoother in specific sections.
TIP 10: HEAD OUT ON TRAILS WITH BETTER RIDERS
It's always easier to learn from those that are more experienced. You'll likely push yourself a little harder as you pick up tried and proven riding habits. If you can ride with experienced mountain bikers, you'll have a lot of fun and be able to watch how they position their bodies, handle rocky sections and even fix a flat tire from the side of a mountain.
Join a riding group or simply network when you are out on trails to meet like-minded riders. You'll make some new friends along the way as well!
Beginner Bike Maintenance Tips
Use chain lube
Keep your chain clean and lubricated, particularly if riding in bad weather. As our guide to how to clean a bike chain explains, you'll eliminate the dreaded 'creak' that cyclists hate, and more expensive parts such as chainrings won't wear out as quickly.
Check your tyre pressure
Recommended tyre pressures will be indicated on the sidewall of your tyres, but the ideal road bike tyre pressure is subject to a number of factors.
The best bike pumps are a good investment because they require less effort to get to the recommended pressure, and will feature a handy pressure gauge.
Fit mudguards/fenders for wet conditions
Fitting mudguards is an integral part of how to get your road bike winter ready.
Your back will thank you, your washing machine will thank you, anyone riding behind you will be thank you too. Some (including some BikeRadar staffers) will point out they can ruin the clean lines of a fancy road bike but, in the mire of winter, do you really care?
Keep your bike clean
Although few of us are as fastidious as we should be, you can clean your bike in seven simple steps.
Hot soapy water and a sponge will do the job for most parts unless the grime is caked on, in which case there are some great cleaning sprays available. Use specialist degreaser for the drivetrain (cassette, chain, crankset and so on). Then spray your gleaming bike all over with a silicone aerosol – avoid braking surfaces – this will stop mud sticking on your next ride.
Master puncture repair
Learn how to fix a puncture, and always carry a repair kit (including tyre levers, patches or a new inner tube, and a pump).
When you're miles from home and suddenly hear that hissing sound, you'll be glad you learned how to fix it yourself.